Some links in this post are affiliate links, which means I receive a commission if you make a purchase (at no additional cost to you). Thank you for your support!
If you're thinking about replacing your kitchen countertops, it's important to pick the best option based on budget and preference. Here are the differences between each kitchen countertop material, including pros and cons and price. Use this guide to help you choose the right kitchen countertops for your home!
After successfully completing not just one, but four kitchen remodels over the past seven years, it's safe to say that I've learned a thing or two through research, trial and error, and sheer luck. 😉
My favorite part of any kitchen is choosing the countertop materials. This process is fun and also is one of the most important design elements in residential kitchens. It signifies one very important thing – you're almost done and back to having a working kitchen!
This post is a lonnnngggg one but I've done my best to show you all the types of countertop materials as well as their cost. Yes, this includes inexpensive countertop material options too!
But, if you don't have time to scroll through this whole thing, I got you! Just jump ahead using the links below.
Jump to:
Tips For Picking the Best Kitchen Countertops
Choosing kitchen countertops is a personal choice that needs to take a lot into consideration, including the following:
If you're going to put in brand new countertops, then you better make sure you love how they look! There are so many different styles and countertop material options out there that come in an endless supply of looks and finishes.
Are you the kind of person who meticulously wipes up every spill the instant it happens? Or are you more likely to want to entertain without worrying about policing the countertops? How much maintenance can you genuinely handle? I am a firm believer that lifestyle trumps everything -even aesthetics (which is why I personally won't get marble counters even though they're my favorite!).
Regardless of what kitchen countertop material you go with, you'll probably lay down a chunk of change for your new counters. While it's a worthy investment, don't stretch yourself. Stick to your budget.
How do you need your kitchen to function? Are you a gourmet chef, or someone who just likes to boil water for pasta? Think carefully about things like how many co-cooks will be with you in the kitchen (especially consider your children!) and how often you plan to entertain.
What Is The Best Kitchen Countertop Material?
At the end of the day, this is 100% up to you. Personally, I've had counters made from tile, laminate, granite, concrete, and quartz.
Hands down, my favorite is quartz! I love that it's extremely durable, requires little maintenance, and has an almost limitless selection of finishes and looks.
What Is The Cheapest Countertop?
Both tile countertops and laminate are affordable options. However, tile countertops can have some additional fees like labor and extra supplies (ex: grout). Additionally, you might be able to find a killer deal on a remnant piece of granite or quartz at a discount store.
If you want to find the cheapest countertop possible, remember to consider installation, labor, and materials costs when calculating the all-in price.
Types Of Countertop Materials
Let's go through each of the types of countertop materials and evaluate the pros and cons, as well as take a look at prices.
Solid Surface Countertops
A solid surface countertop (often called by the brand name Corian), is acrylic-based and made of pigments mixed with resin and minerals. In short, it's a custom fabricated mix between granite and laminate. Check out this great information about solid surface countertops.
Pros:
Affordable countertop option – often more affordable than granite or quartz.
Easy to hide seams.
It can be molded into almost any shape needed.
Easy to clean with common household cleaners.
Come in a wide variety of colors and finishes… see more here.
Low maintenance—no sealing required.
Cons:
Not heat resistant – a hot pot or pan sitting directly on the counter will most likely leave damage.
They aren't scratch-resistant. Make sure to use a cutting board and don't slide items over the counter, or you'll likely see small scratches. (However, solid surface countertops are the same all the way through, so scratches can be buffed out. Woohoo!)
Dents can also occur.
How much do solid surface countertops cost?
While costs will vary depending on complexity and finishes, the cost is about $40-$150 per sq ft installed.
Engineered Stone (Quartz) Countertops

Quartz countertops via With Heart by Jennifer Stag
Engineered stone countertops (commonly known as quartz) are made from crushed quartz stones and resin. In my opinion, it's one of the best material options for counters in modern kitchens. Here's why:
Pros:
Since these are manufactured countertops, they are available in a wide variety of finishes and colors.
As manufactured counters, they will appear uniform in finish throughout your kitchen.
They're non-porous, so they will resist most stains like oil and wine better than average.
Quartz is naturally anti-bacterial due to its a non-porous, natural stone material.
Low-maintenance and easy to maintain – no annual sealing required.
Edges can be shaped into 19 different edge profiles, including rounded edges.
Cons:
Higher price point than some other materials.
Less resistant to heat than granite countertops. Make sure you use potholders and trivets when setting hot items on your counters!
Seams are necessary for longer slabs.
Check out this post from Liz Marie Blog for more pros & cons and her review of quartz countertops.
How much do quartz counters cost?
The cost will vary based on the pattern and finish you select, but on average the cost of these countertop materials is around $70-$100 per sq ft installed.
Crushed Glass Countertops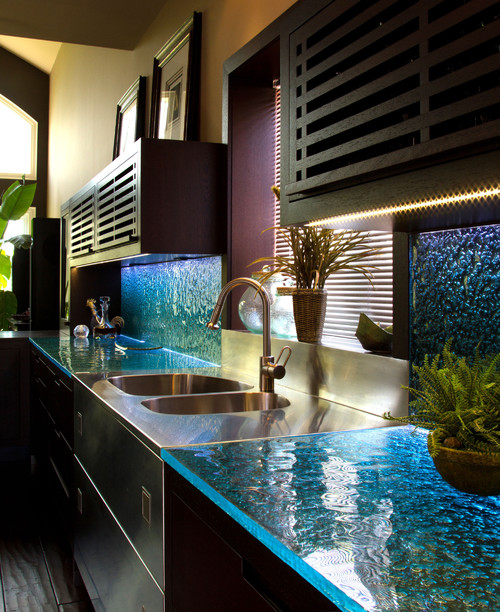 Crushed glass counters (also known as recycled glass counters) are made from recycled glass bound with cement or resin. They can also be a solid piece of glass with no binders. The glass often comes from curbside recycling and post-consumer materials, making them the most eco-friendly countertop option.
Pros:
Crushed glass countertops are the best material for those who want eco-friendly options.
They resist heat damage from high heat.
You can work with a manufacturer to design the counter yourself – you can choose the glass and binder for a completely unique look. You can even add lighting into or under the counters.
Easy to clean – just use soap and water.
Resin-based countertops are non-porous and do not require re-sealing.
Cons:
Glass countertops can be scratched fairly easily.
Chips can occur if items are dropped onto them.
Impossible to repair if they get chipped, cracked, or dented. The entire counter will have to be replaced.
Cement-based glass counters are porous and will have to be sealed regularly.
Seams will likely be visible.
How much do crushed glass counters cost?
Depending on the finish, basic crushed glass countertops cost between $50-$105 per sq ft installed.
Granite Countertops
Granite stone is a natural material found in mountains (typically in India, Italy, or Brazil). The granite is removed from the mountain in large blocks, then sliced into countertop-sized blocks. Mining and cutting the granite takes place at the quarry before it's shipped to the United States.
What's the difference between honed and polished granite counters?
A honed granite countertop will appear matte or satin in appearance. A polished granite countertop is finished with polishing pads, giving it a glossy look. A polished finish is ideal for daily use since it is non-porous. Honed counters require frequent re-sealing and are more susceptible to staining.
Pros:
Granite counters are easy to clean – just use soap and water.
Granite is heat and scratch-resistant.
It's a material for your kitchen that tends to have a higher resale value.
Each slab lends natural beauty and is completely unique since they are 100% natural.
Granite counters can be finished in over 20 different edge options.
Cons:
Granite countertops do require some maintenance. Some professionals recommend resealing granite countertops – especially honed counters – every year­. (You can perform this simple water test to see when sealing is needed.)
Higher price point than other options.
Slabs will have a seam, and since granite is natural, each slab will appear slightly different (which could be a pro or a con).
As a porous material, granite can harbor bacteria from food preparation when not properly sealed.
Granite counters can chip if a heavy object is dropped onto them.
How much do granite natural stone counters cost?
The price of granite countertops varies greatly depending on the thickness, type, and finish selected. On average, you can expect to spend anywhere between $50-$200 per sq ft to have granite counters installed.
Marble Countertops
These are natural stone counters made of marble. Similar to granite (another natural stone), marble is mined in mountains and cut off into chunks. Chunks are then sliced into countertop-sized pieces on-site before shipping.
Marble kitchen counters via Sarah Sherman Samuel
What's the difference between honed and polished marble counters?
Honed marble counters have a matte finish that won't show scratches as easily. On the downside, they're more porous, making them more susceptible to staining.
Alternatively, polished marble counters are polished to a shiny finish. While they won't stain as easily, they do show scratches more than their honed counterparts.
Pros:
Classic, timeless, luxurious look.
Some finishes, particularly Carrera marble, are considered a more affordable option because they're the cheapest of stone materials.
Aging and etching can provide a desirable worn-in look.
Heat resistant but still requires a trivet when placing a hot dish on them to prevent staining.
Easy to clean (learn how to clean marble countertops).
Cons:
Requires maintenance with frequent resealing every 3-6 months.
Even with proper re-sealing, these porous countertops can still stain easily.
Because they're soft stone, they show etching easily (i.e., NOT scratch resistant).
Cost
Believe it or not, marble counters are one of the most affordable options at $40-$100 per sq ft and can be one of the best kitchen countertops for many homes.
Tile Countertops
Tile countertops via Apartment Therapy
Just like they sound, tile counters are created by piecing tiles together on a piece of plywood topped with a backer board.
Pros:
If you're feeling handy, tile counters are a DIY project you can tackle! Here's how to DIY tile countertops.
You can use tiles of whatever kind of ceramic or natural stones you like to create a custom look of colors and patterns to match or contrast your kitchen cabinets.
Easy to clean and care for.
It can be an extremely affordable countertop material.
Cons:
Due to the grout between tiles, the surface is not perfectly level.
Grout can be difficult to clean.
Depending on the type of tile you select, it can get chipped, cracked, or stained.
Difficult to replace individual tiles if they break.
Grout needs to be sealed yearly to prevent staining.
How much does it cost to install tile counters?
If you're willing to tackle this project on your own as a DIY project, costs can be kept as low as $2 per sq ft, depending on the type of tile you select. However, if you would rather use a professional and a higher-end tile, costs can rise up to $150 per sq ft.
Butcher Block Countertops
Butcher block counters via Jessica Ann Kirby
These are made from wood rails that are laid parallel to each other and glued. In general, these counters are made from hardwoods like oak, maple, walnut or cherry. They can be stained or left in their natural state and treated with oil.
Pros:
With a few tools and some elbow grease, you can make DIY wood counters.
Butcher block counters are affordable.
You can cut produce directly on your counters. However, be aware that this can leave dents and scratches, so if this bothers you, stick with a cutting board!
Counters are soft on dishes like china – less chance of them breaking when setting them down.
Cons:
Requires maintenance and/or sealing yearly or as needed to keep it food-safe. At a minimum, wood counters need to be oiled every six months to keep the counters protected.
Wood conditioner is needed to keep the wood from cracking – learn exactly how to care for butcher block countertops.
Counters can scratch and dent easily.
Butcher block is not heat resistant.
Excessive wetness can lead to countertop discoloration or even rot.
How much do butcher block countertops cost?
Butcher block counters don't have as much variance as some other counters. In general, you can expect to pay between $40-$60 installed per square foot. Custom-made wood counters, however, can cost closer to $75-$100 per sq ft.
Concrete Counters
DIY concrete countertops via Run to Radiance

How are concrete counters made?
Concrete countertops have risen in popularity due to their ability to be fully customized with beautiful finishes and even decorative edges. They can be created in a variety of ways.
A professional will come out and create molds for your counters, either off-site or right in place on top of your cabinets. The counters are made of a special concrete mix – it's different than what you see on the sidewalk!
Additives can be added if you choose. Items like concrete pigment, seashells, or even a built-in wooden cutting board are popular choices. The concrete will need to be stabilized and reinforced with mesh, steel, or fiberglass as well.
How To DIY Concrete Countertops
We did DIY concrete countertops from start to finish in our last home. They were inexpensive – we spent about $400 on our kitchen counters. It also was a ton of work, but worth it in the end. Here's my post on how to DIY concrete counters.
If building a cast and pouring your own concrete countertops sounds intimidating, you can also try to put concrete on top of your current countertops.
Pros:
Unlike natural stone, concrete countertops are 100% customizable. You can pick the color, style, and finish.
Can prevent the look of seams by building longer casts.
They are durable countertops.
When sealed properly, they are heat resistant.
You can make these counters yourself! Here's how to make DIY concrete countertops.
Appearance can improve with age—concrete develops a worn patina with time.
Cons:
Countertops are very heavy, and additional support might be needed for certain cabinets. (For example, we added support to our Ikea cabinets just to be safe).
Concrete countertops require maintenance. It's recommended they be re-sealed every quarter, but in my experience, they really need resealing every month. (For me, personally, this was a deal-breaker and why I chose not to do concrete countertops again. Spoiler alert: I'm a low-maintenance kind of chef).
Stains can easily occur and are difficult to remove. Here's how to remove stains from concrete counters.
Concrete can crack, but (pro!) – the cracks are usually repairable.
How much do concrete countertops cost?
The average cost for professionally poured concrete countertops ranges from $65-$135 per sq ft. The average cost of DIY concrete countertops can vary, but ours cost about $400 total.
Stainless Steel Countertops
Stainless steel counters are made out of a mix of elements that include iron, carbon, and aluminum along with many other elements. Manufacturers custom design each countertop to fit the size and style that the consumer wants.
Stainless steel counters are often used in kitchens since they are easy to clean and anti-bacterial.
Pros:
Easy to clean – just mix warm water and dishwasher detergent in your sink and scrub it on your counters for a clean countertop.
Different finish options. You can choose between different levels of glossy and matte.
Give an industrial look which is highly desirable for some people.
Low maintenance – counters do not need to be resealed as other tops do.
Resistant to heat and stains, so go ahead and put your hot pans down right on your counters.
Completely non-porous and anti-bacterial.
Cons:
Easily scratched and dented. While stainless steel counters are durable for the long haul, denting and scratching will occur.
Fingerprints and other smudges are easily seen and show up frequently.
When custom-made, it can be one of the most expensive countertop materials.
They are noisy. Since you are working with steel, everything that comes into contact with it will be significantly louder than with other types of countertops.
How much is a stainless steel countertop?
Stainless steel counters range from $67/ foot to $96/foot installed. These numbers can vary depending on the grade of stainless steel and the customizations of your kitchen layout.
Soapstone Countertops
Soapstone countertops via Traditional Home
These are natural stones similar to granite but is generally considered extremely durable for a kitchen environment. It comes from metamorphic rock and is composed mostly of the mineral talc.
Pros:
Very durable – with proper care, these countertops are made to last as long as you own the home.
Naturally impervious to heat and stains that could damage other countertop materials. Feel free to put your hot pots down directly on this.
Uniqueness – Not everyone has a soapstone countertop, and they do have a unique look and feel to it that can make your kitchen stand out.
You can choose to have your sink integrated into your counters and made out of the same material for a seamless look.
Cons:
Expensive. Soapstone isn't as common as granite and other materials, making it one of the most expensive countertop materials. A slab will cost you 25-30% more than a similar granite or quartz counter.
Easily scratched and dented. Soapstone counters are lighter than other countertop options making them more susceptible to scratches.
Soapstone doesn't have as many color and style varieties as other stones like granite and quartz.
Require some maintenance. While they don't need to be sealed, many people choose to add mineral oil to the countertop to add to its longevity and make cleaning easier.
How much do soapstone countertops cost?
Soapstone counters are one of the more expensive countertop options. It can cost you anywhere from $70/foot – $120/foot installed.
Laminate Countertops
Yes, these are laminate countertops! Via Sarah Sarna.
Laminate sheets (or counters) are made of plastic, particleboard, and kraft paper compressed together to give the appearance of a more natural countertop. They come in a wide variety of colors and patterns.
Pros:
Laminate counters are by far the most affordable countertop option.
Unlimited styles – You can find any color or style of laminate countertop to fit your home decor.
Easy to clean – Soap and hot water will do the trick, but if you use a household cleaner, be sure to rinse it off, so it doesn't damage the surface. (For difficult stains, you can use a mixture of baking soda and your choice of surface cleaner with a microfiber cloth).
Cons:
More easily damaged than other solid surfaces – A sharp knife or other utensils can scratch the surface. Laminate counters can also be burned if a hot pan is sat on them.
Resale value – Laminate doesn't add to the real estate value of your home in the same way that a stone countertop or other natural stone countertop would.
How much do laminate countertops cost?
Laminate countertops generally will cost you around $10/foot to $20/foot for materials plus installation, making them one of the best countertops for your kitchen if the main concern is affordability.
Best Kitchen Counter Materials FAQs
What is the best material for a kitchen countertop?
It really depends on your cooking and lifestyle preferences. I personally think that granite and quartz are two of the best for most homes.
Which countertop is easiest to maintain?
In my opinion, solid surface counters, granite, quartz, and stainless steel all fall in this category.
How do I choose a countertop?
Consider how much cost and care you want to put into your counters. Then factor in appearance options to come up with your final choice.
What countertops are best resale?
Granite, quartz and sometimes butcher block are the best kitchen countertops for high resale value.
What is the latest trend in kitchen countertops?
Concrete counters have been taking off in popularity lately. However, granite and quartz remain very popular due to their high resale value and low maintenance requirements.
Final Thoughts On Choosing The Best Kitchen Counters
So can you tell which countertop material is the best? No? That's because there are many different options to fit different lifestyles and budgets. However, I hope this guide helps you pick the best countertop materials for your home!
More Design Inspiration