I'm back with a full list of Billy Bookcase Hacks you can use all around your home! Even though I have multiple pieces of storage units from Ikea, I am still able to find ways to get creative with a Billy Bookcase. Spruce up your decorating or add some much-needed storage to your living space with some of these Billy Bookcase Ikea Hacks.
Billy Bookcase Ikea Hacks
I'm backkkkkkk! You guys know I love a good Ikea hack when I see one but these Billy Bookcase Hacks I've been using in my home are a serious must-do in your house.
First of all, if you've never heard of this amazing shelving unit, we need to get you acquainted a little bit! Back in 1979, Ikea came out with the Billy Bookcase and who knew after all these years, it would still be one of their best sellers. When you take the plunge and buy one for yourself, it comes with their very own Billy Bookcase instructions, so you can easily put it together.
The options for storage for Billy Bookcase are endless. You can use them to store toys, turn them into dressers, house books, transform a room to appear that it has built-in shelving, and so much more!
So far, in my house, I have used this storage system as:
I have other plans on where I want to add some more and when I do, I'll definitely share them with you!
One of the key features that are ideal for the Billy Bookcase is that you can easily transport it and move it to a different room. It looks lovely in bedrooms, living rooms, kitchens, dining rooms, laundry rooms, and family rooms. It's basically one of the most multi-purposeful pieces of furniture you can own. If you don't have one (or five), now is the time to jump on the Ikea Billy Bookcase train.
Brilliant Billy Bookcase Hacks Everyone Can Use
To get started, take a look at these Billy Bookcase ideas so you can be inspired to update your space. After looking them all over, I'm sure you will be eager to get to work planning what you will do with your new favorite purchase.
Is your children's playroom disorganized and causing you stress? Do you want to add an elegant bookshelf in your family room? Whatever your need is, I promise there is a Billy Bookcase Ikea Hack out there waiting for you.
Tip: Before you make your purchase of a Billy Bookcase, be sure to measure the space you are planning to use. They have a variety of heights and widths, so you want to make sure you buy the right size. To keep them uniform in size, each Billy Bookcase has a depth of eleven inches. This makes it super easy when you are using multiple shelves together.
Billy Bookcase As Pantry Storage
When it was time for us to put our own freestanding pantry in, we turned to Ikea. Rather than going with an Ikea pantry cabinet, we decided to try an Ikea pantry hack by using the Billy bookcase as our pantry! Spoiler alert…it TOTALLY works! Check it out!
Ikea Billy Bookcase To Drawer Hack
I love how much character and brightness this adorable dresser has. Infarrantly Creative shows you that can make it match any room using the colors that fit your decor. Plus, this is a great way to use up that collection of pulls you have sitting around and aren't sure what to do with.
Under The Counter Storage
You won't believe the before and after photos of this amazing Billy Bookcase Hack. It's positively stunning, and Eleven Magnolia Lane explains how you can easily replicate this look. It likes like the shelves were built-in and have always been there.
IKEA Hack Built-In Billy Bookcases
Do you have an office space in your home and you aren't sure what to do with it? Use this Billy Bookcase Ikea hack done by Southern Revivals as inspiration to create a user-friendly and beautiful office. Not only is it functional with storage, but it is also a great way to show off photos and artwork.
DIY Borgsjo Built-In Bookcases
Avery Street went above and beyond by adding floor to ceiling built-in bookcases, which adds a charm to your room like no other. With black pull knobs and glass doors, it's an elegant and stylish display for all sorts of things. Perfect for many rooms in your home!
Adding Color To Your Billy Bookcase
I can't get enough of how adorable this Ikea hack is! IKEA Hackers used fabric to color the back part of the bookcase to give it a new look and it's beyond amazing. It takes a plain and straightforward shelf and gives it a little bit more personality. I'm for it!
Ikea Billy Bookcase Hack With Shiplap
Angela Marie Made outdid herself when making this terrific bookshelf hack! The dark blue color she used to paint this is fantastic. Plus, adding that shiplap took it to the next level.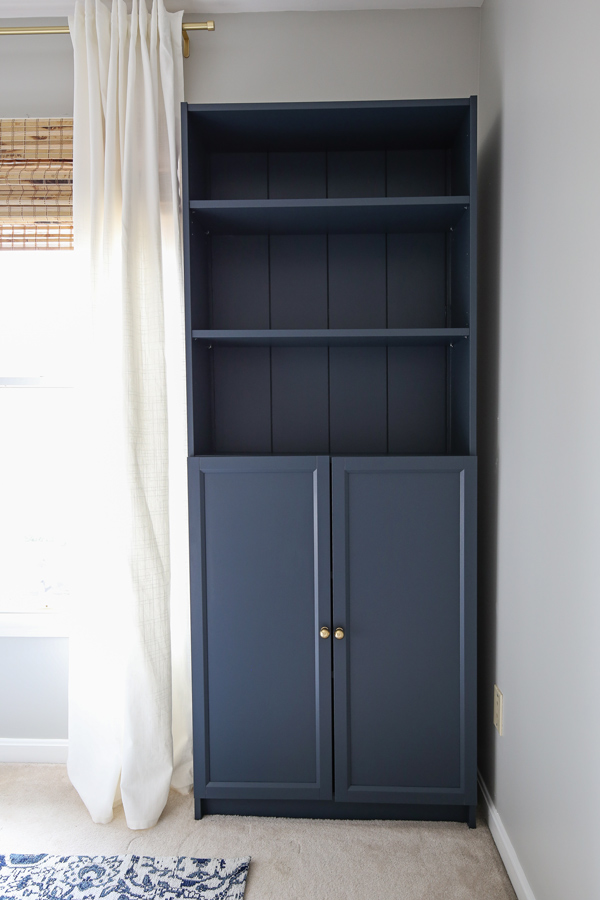 Billy Bookcases With Glass Doors
Using half shorter shelves to store all of their books and adding glass doors to them gives a refreshing look to your room. Plus, you can use the top portion to place additional home decor items. The IKEA Hackers made this into a beautiful space!
Billy Bookcase Ikea Hack Idea
Centsational Style made such a versatile piece that enhances the character of the space. The blue background adds a vibrant color that contrasts well with the white shelves. Try this look!
Ikea Billy Bookcase Kitchen Island Hack
Golden Boys & Me flipped the Billy Bookcase on its side. Then added an Ikea butcher block to the top. I recently added something very similar to my home and I LOVE it! I finally a place to store all those random items I need in my kitchen.
Built-In Dining Room Storage Hack
Make Do And DIY gives a detailed tutorial on how to cover an old ugly radiator using a Billy Bookcase. This genius idea also gives you some additional storage in your dining room, too. I love the vibrant pops of color they added with the dark counter top.
DIY Arched Bookshelves
Juniper Home got really creative and added arches to the Ikea Bookshelves. I have to say that the outcome is terrific! I was pleasantly surprised at how easy it is to do.
Beveled Crown Moulding To Billy Bookcases
Wow! Can you believe what a difference adding some beveled crown molding makes on the Ikea bookcase? Brittany Makes created such beauty by making some minor adjustments that had a huge impact.
Ikea Bookcase Hack Transformed Into Mudroom Lockers
Polkadot Chair chose to use the bookcases as mudroom lockers, and it's perfect! Mudrooms are notorious for being a catch-all and aren't always the most organized. I might need to add this to our Sunroom for when we all come inside from the backyard or garage.
Unique Ikea Billy Bookcase Hack
If you have a spot in your home that you want to be hidden as Design Evolving did with a built-in air conditioner, this hack is for you. Not only can you hide something unsightly, but it also looks fabulous too. The gold hardware pops against the white shelving too.
Library Ladder With Billy Bookhouse Hack
Lily Pad Cottage knows precisely how to add some charm and elegance to their library. If you have a ton of books and aren't sure what to do with them, this is a delightful option. It's a farmhouse style that will always be adorable too.
How To Paint A Billy Bookcase
One advantage of IKEA furniture, besides the awesome price range, is the ability to repurpose the furniture to make it your own. When it comes to painting Ikea furniture, there is a right and a wrong way. It's essential to follow the instructions to give yourself the best results possible every time. Otherwise, you will be fighting peeling paint and unnecessary premature aging of the furniture!
First Step: Begin by de-glossing or sanding very lightly on the Ikea laminate furniture while it's unassembled. After sanding or de-glossing, you will need to wipe down the piece, so no residue stays behind if you have a tack cloth use it to give everything a once over. This allows debris to stick to the cloth instead of the furniture.
Second Step: Prime the pieces using a product that is made to go over laminate. This is very important, or it won't stick properly.
Third Step: Begin adding color to the Billy bookshelf. It's vital that you do thin layers of paint and allow it to dry between each one. You may need to add one or two coats to make sure everything is adequately covered.
Fourth Step: Use a sealer all over the paint after it's completely dried. This will protect it, and it should last a long time without issues.
How To Attach A Billy Bookcase To The Wall
It's important to properly secure your Billy Bookcase to the wall to prevent it from falling over on someone or a pet. Small children sometimes have a habit of trying to climb bookshelves (I can vouch with my kiddo), so it's an important step you should take to keep them safe!
After you find a stud in the wall, you will need to mark the spot with a pencil so you know where to drill the hole.
Then, put the Billy Bookcase in place and make sure that it's against the stud and close to the wall.
Use the L-Shaped brackets at the top of the bookcase and screw them into place. Make sure you are screwing through the stud, or it won't stay in place.
That's all there is to it!
I hope you have had as much fun as I've had looking at these brilliant Billy Bookcase Hacks. I love that you can go as wild (or as creative) with color as you want or opt to stick with a more subdued look. There are no wrong answers, and everyone will be impressed with the beauty the Billy Bookcase from Ikea offers.
Check Out More Ikea Hacks
Just use your imagination, look at these photos, and you'll be well on your way to creating your own custom Billy Bookcase Hack idea. Don't be afraid to try out new ideas, and if you don't like the one, you can always try something else instead. Happy Decorating!